Hire your car from us for a really great service

For €130 per week we offer a 'Group A' car or €150 per week we offer 'Group B' cars to you whether you are renting one of our bungalows or taking your holiday with another company. We recommend a small El Paso Hire company. You will be comprehensively insured with no excess mileage charge for any driver (over 21) and no surcharge for a collision damage waiver. Absolutely no overheads whatsoever!

Nor will you be expected to pay for a full tank of petrol that you may not use up. The fuel in the car is what the previous hirer left in it. If the tank needs topping up there is a petrol station just as you leave the car park.

There will be no queuing at a car hire office at the airport to get or drop the car off. To pick up the car you go straight to the car park and pick up the keys. To drop it off you park it in the car park, leave the keys in the car and go for your aeroplane. What could be easier? At a pre-arranged time you go to the office in El Paso, do the paperwork and pay. There is seldom any queue there unlike at the airport where a whole plane-load of passengers arrive at the car hire desk at the same time.

Your car will be a Kia Picanto or a Hyundi Accent. Both are 5 door cars with a large boot and come with Air Conditioning, Airbags and ABS braking.

We'll see that you are met at the airport and the car is handed over to you. You drop the car off there at the end of the holiday. Don't worry if your flight is delayed or you are diverted to Tenerife because of bad weather and then have to complete the trip by ferry. Unlike other car hire firms we'll be there for you whenever you get to the island and however you arrive.
---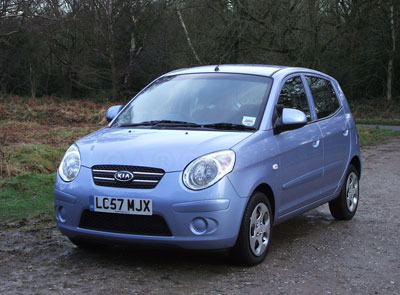 Kia Picanto



Hyundai Accent